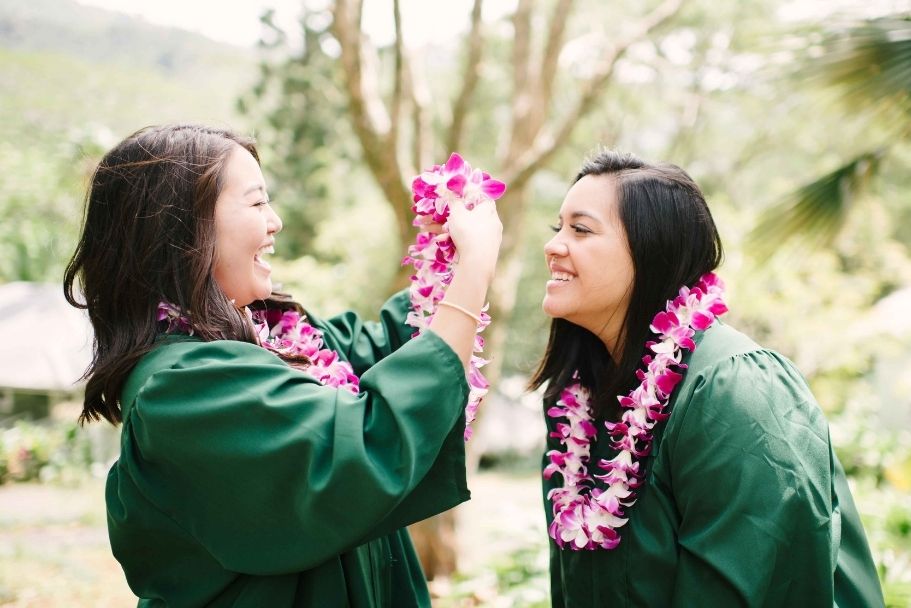 Proper lei etiquette involves what to do when you receive a lei, but what about when you're gifting a lei to someone? A lei can be used to mark many occasions — chief among them is graduation, of course. It's Hawaiian tradition to give a them since graduation leis symbolize many things.
But when exactly is the right time to gift a graduate their lei? It really boils down to what feels appropriate in that moment. Luckily for you, we've got everything you need to know. 
But first, what lei should you give?
Here's a little tidbit to remember that'll make shopping for a graduation lei a breeze: There is no wrong lei to give. 
It's common in Hawai'i for family and friends to adorn their graduate in a maile lei or double ti leaf maile-style lei. These open lei are ultra regal and lightly scented with earthy tones. No graduate is complete without a haku, either. 
Other popular favorites include orchid lei, which are available in a variety of colors and eye-catching patterns. Our favorites? Double orchid lei, Mahina, Lanikai and fancy spirals. 
OK, so when do you give a lei?
Like we said, this one comes down to what feels right at the time. 
In Hawai'i, lei are given after the graduation ceremony is complete — primarily because it isn't just immediate family that gifts a graduate with lei. Extended family and friends like to get in on the action, too. In fact, within an hour or so, it isn't uncommon for graduates to have lei piled as high as the top of their head. 
In other parts of the country, though, lei traditionally are given after a graduate has donned their graduation robe and regalia before the ceremony begins. This also could come down to dress code, with some schools preferring their graduating class to have a uniform look. 
Can you help me choose the right lei?
Of course we can! Here are more details on choosing the right lei and the best lei for shipping. 
Still have questions? Click on the icon at the bottom of your screen to chat with a member of our team, or give us a call.