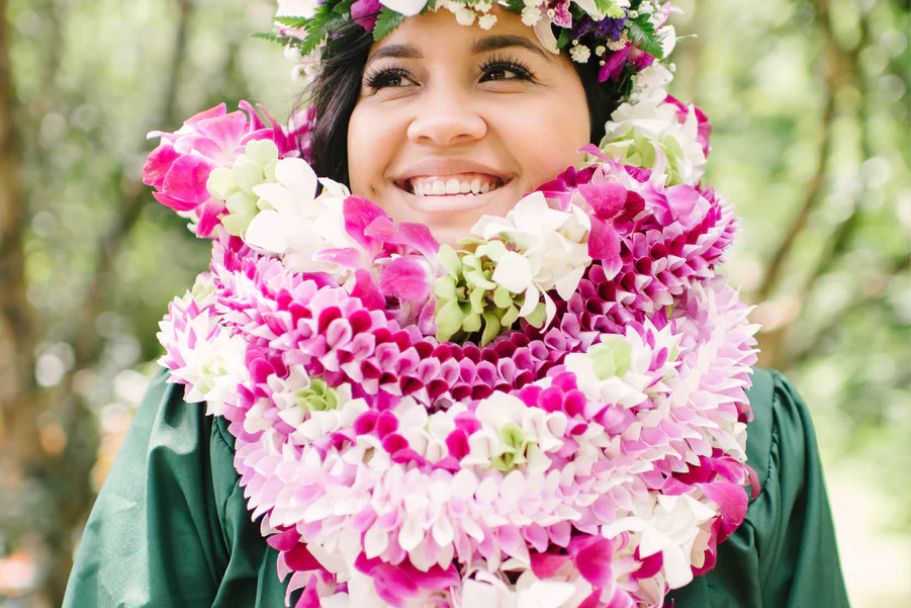 G-Day — graduation day — is a milestone that marks the beginning of life's next journey. So what better way to ring in such a momentous occasion than with the unique gift of lei from Hawai'i? 
Yes, the multitude of colors and styles of lei to choose from can seem daunting, but here's the truth: it really isn't. There is no right or wrong lei for anyone. Some, of course, might be better suited to whoever you have in mind — and you would know best. Here are some quick and easy tips to remember when making your selection. 
Color Considerations
Sure, color can sometimes hold meaningful significance. Purple, for example, is associated with power and royalty, while white helps ring in new beginnings — pretty apropos in this case, actually. Then, of course, there are the color preferences the graduate may have. 
But don't get too caught up on finding the right hue. Remember that flowers used in lei do not come in every color imaginable. At the end of the day, lei are such vibrant additions to any occasion that whatever you choose will wow. 
Going The Distance
For months you've had your mind set on something fragrant — but here's a friendly reminder that, depending on the time of year and taking into consideration transit times, it may not be the best option. By nature, all fragrant flowers are  delicate and fragile, and definitely do not appreciate extreme hot and cold temperatures in the summer and winter months. 
Our recommendation? Orchids will hold up best, and with the right color combination and style make for an equally elegant choice. 
A Numbers Game
If you're wondering if it's normal for a graduate to receive as many lei as those in the picture above, the answer is yes and no. 
Preparing for graduation in Hawai'i means calling upon aunties, uncles and cousins to be on hand after the ceremony to help with holding lei — as in, once the pile of lei reaches your eyes, it's time that someone transfer a few to hold on their arm. By the end of the night (or day, depending on commencement times), expect piles and piles of lei to take home. 
This, of course, is not the norm everywhere, so it's perfectly fine to have the graduate don a few or even one. However many lei you choose to gift them is entirely up to you, and quantity doesn't mean a thing — it's the thought that counts.