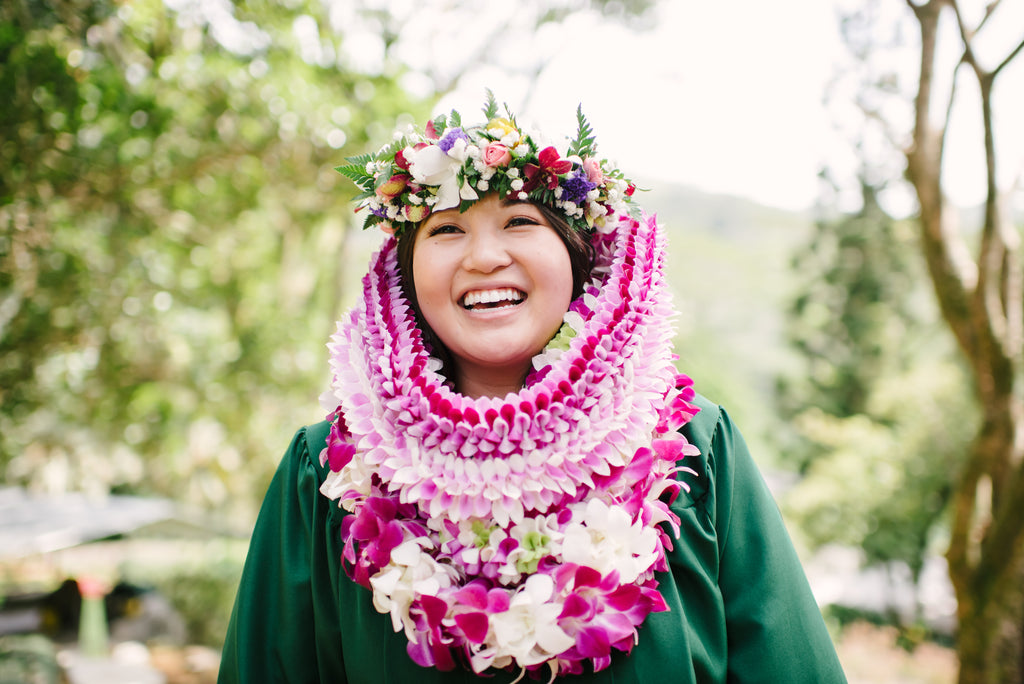 Graduation season is almost here, and you know what that means: lots and lots of lei — and there's nothing quite like graduation season here in Hawaiʻi. Walk through a crowd of freshly minted alumni and it isn't uncommon to see lei piled as high as foreheads, helpful relatives standing by to offer up their arms as additional storage.
So with the first batch of seniors already preparing to accept their diploma, here are three helpful tips to keep in mind when buying graduation lei:
1. All colors are created equal. There is a longtime notion that certain lei are more appropriate for males and others for females. A white micro ginger is perfect for women, for example, while cigar lei are only for men. But really, there's no right or wrong answer here. Micro ginger lei are nice, subtle touches of style and fragrance for men, and a cigar lei is a nice pop of color for women. Our recommendation: have fun with it.
2. Double ti leaf lei are your friend. One thing we've been experiencing this year is a shortage of maile lei. Over-harvesting is partially to blame, but there also have been stricter agricultural regulations. Many imported maile lei are prone to confiscation because of of bug infestation and disease. Consider instead our double ti leaf lei, which is handcrafted in a maile style. It's fuller, more affordable and dries nicely for any graduates who want to keep it as a memento.
3. Time is your friend. With graduation season being as hectic as it is, we recommend you place your order as early as possible. This helps us to ensure that we'll have whatever lei you'd like on hand, or have the time to create one especially for you. You know what they say: It's all fun and games until it's an hour before a graduation ceremony and you're having a hard time tracking down something as popular as a haku.
Just remember: Every day is a lei kine day, but there's no greater day for lei than graduation.