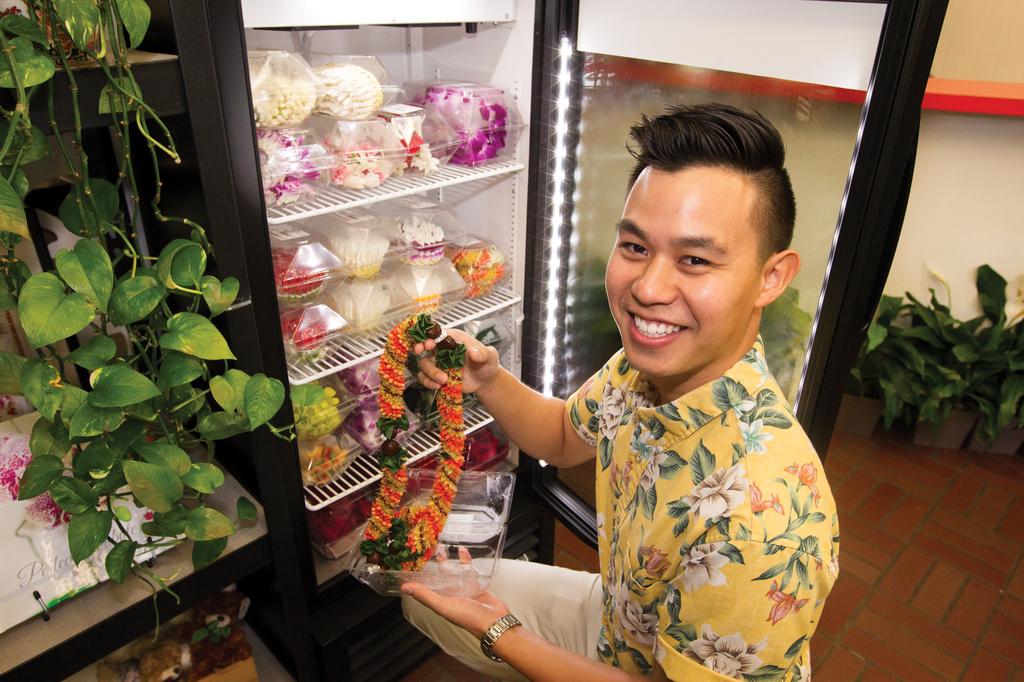 Reece Nakamoto Farinas head of Hawaii Lei Stand shows some of the lei sold in his Beretania sore which is located in Beretania Florist.
When Reece Nakamoto Farinas joined his family business Beretania Florist as the director of sales and marketing in 2013, one of his primary goals was to ramp up the company's online advertising and e-commerce.
So, Farinas helped lead a rebranding effort to modernize the company, redeveloping the website into a clean, user-friendly format, and taking new product photos that would appeal to a younger market.
"The opportunity was there to increase our market share through our online sales," said Farinas, whose great-grandparents started Beretania Florist in 1937.
It worked, and six years later, Beretania Florist's online revenue has nearly tripled.
"It's exciting, but we realize that we can never get complacent because things are always changing online, and we have to think of new ways to present our products to customers," Farinas said.
To that end, he and wife Jaimie Farinas launched a new company, Hawaii Lei Stand by Beretania Florist, in January. A subsidiary of Beretania Florist, Hawaii Lei Stand designs and ships fresh, handcrafted leis nationwide.
While Beretania Florist has always had leis as a part of its offerings, Hawaii Lei Stand expands that segment and makes it easier for customers to connect with the business through sleek product photos and strong online marketing.
"I had realized from an early point that we could just slip right in and be a major competitor in this space," Farinas explained. "All the florists and lei stands generally offer lei shipping services. But no lei stand or florist is presenting the products in this way and is focusing all of their efforts and marketing on the sale of leis."
One big advantage that the new company has, he said, is that it utilizes the same supply chain and vendors as Beretania Florist, which is now owned and operated by Farinas' mother Celeste Nakamoto Farinas. And while he and Jaimie run Hawaii Lei Stand, the pair also has the personnel support of Beretania, which is comprised of 15 staffers, with additional salespeople, designers and delivery drivers added for major floral holidays.
While Farinas admitted that working on two companies simultaneously can be challenging — he now gets in earlier, stays later, and often works weekends — it's worth it.
"Even though it's a lot of work, it's rewarding," he said. "None of this feels like work. Everything that we do is almost recreational for us.
"It can be a challenge to get a lei prepared and then ship it out right away. But it's what I think makes it really attractive for customers on the Mainland," he continued. "It's like, 'I am going to a birthday party tomorrow,' so they find us, we have it made, ship it out, and it gets to them the next morning. Our customers love it, and I think they find a lot of value in it."
---
Why did you want to create Hawaii Lei Stand? The model for lei is easy for anybody to replicate. There's nothing proprietary about selling leis, but what we wanted to do is use our online marketing and e-commerce knowledge to create a brand that was super strong online. We knew that if we created a beautiful website with products that have pictures that are stunning and we had prices that were affordable for everybody, that we would have the right equation to be a successful company. Anybody can do it, but the online marketing and the presentation of that online is what I think sets us apart.
How do you think the way that you present your products sets you apart? We wanted to create product photography that was different, that had this lifestyle feel to it, and that presented how people would look in the leis. A lot of product photos for leis are just the lei on the table, or the lei on a white background, which is nice but kind of sterile. We decided to show the leis on someone. And I think it has been really successful because of that, because people can see how it looks on a person. A lot of people have an idea that certain leis are only for a certain gender. For instance, maybe you might get a purple lei only for a woman, but when you see it on a guy, you're like, 'that looks great, too.' We even have guys pictured in haku leis online, and hakus are traditionally for women. But with the presentation of that product on a guy, it's really increased the sale of hakus for men. We are trying to break barriers and sell our products to both genders.
Why is breaking those barriers something that you want to do? There was kind of two parts to it — one, we wanted to get away from the idea that leis are for specific genders. When you think about it, why should specific leis be for specific genders? But on the other end of it, there's a sales opportunity here to market leis that are traditionally worn only by women to have our customers buy them for both men and women. Essentially, you're doubling the opportunity for a sale.
What has been your strategy in finding customers? Primarily, our customers right now are people on the Mainland. It's all people wanting to ship fresh Hawaiian lei to someone that they know for their birthday, for an anniversary, for some special event, and of course right now, graduation and proms … It's an intentional product of our marketing efforts to create a brand that people on the Mainland can find and figure out easily what products we offer.
We have been doing a lot of online marketing, we have been paying for SEO (search engine optimization) and SEM (search engine marketing) so that we get in front of people on search engines … We do both organic and paid social media marketing. It's growing every day, and we are seeing leads come in from our social platforms on our website, which is awesome and that is notably more local consumers.
How do you envision the future for Hawaii Lei Stand? I say affectionately that we want to be like the Amazon of the lei industry ... I'm really looking to improve the lei market. We saw that there was an opportunity to improve the way that people purchase lei and do it while adding value. For us, that meant making purchasing more convenient by developing an intuitive website, lowering lei and shipping costs for consumers, and making lei that last longer and are more fresh. We want lei buying to be easier for everyone.
---
Closer Look
Hawaii Lei Stand
Reece Nakamoto Farinas, Owner
Address: 1293 S Beretania St., Honolulu, HI 96814
Phone: 808-600-2823
Website: hawaiileistand.com