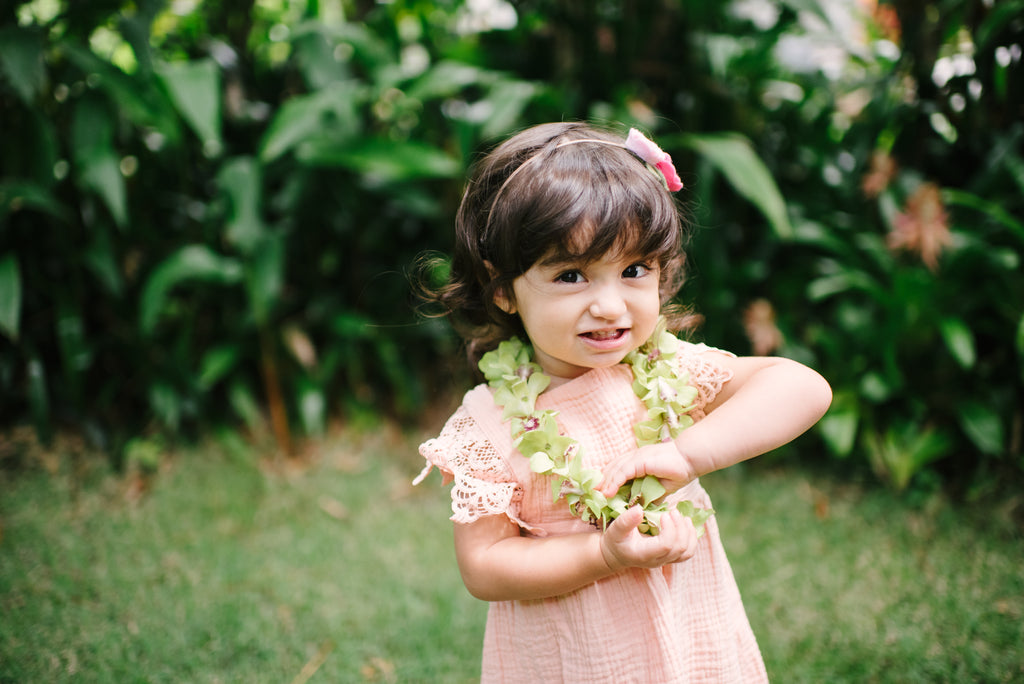 Lei are not only for adults to have fun with — they make for a great adornment for keiki (Hawaiian for "children"), too. Share one with the littlest celebrants for their birthdays, and at holiday parties, weddings and other special occasions to include them in the fun. 
Here are some tips to consider, as well as our top picks. 
Age Is An Important Number
While lei may be shared with children as young as infants, it shouldn't be worn for extended periods of time and adult supervision is a must. Babies who aren't yet able to sit up, for example, should only keep it on briefly — long enough to snap some cute pics, of course. 
Finding The Right Fit
Keiki lei arrive with the ends untied so that it may be fitted properly — too loose and it'll constantly slide of their shoulders; too tight and it'll not only be uncomfortable but also pose a greater choking hazard. 
Fortunately, getting to that happy medium is a piece of cake. Simply hold up both ends of the lei around your keiki's neck. Ensure there is both space in the front and back (at least a hand's-width in front and a few fingers behind). Remove extra flowers, and then tie the strings and trim. 
Pro tip: Use those extra buds to liven up spaces around your home.
Picking A Lei
It's best to keep things simple for keiki, especially younger ones. Chances are, more than a few buds will be torn and tossed aside while they're wearing it. So opt for a single orchid lei in purple, green or white. It'll look great no matter the occasion and since dendrobium orchid flowers are remarkably sturdy, it'll also keep up with your keiki. 
Make it extra special by throwing in a keiki haku — a miniature version of our popular mixed color haku for adults.