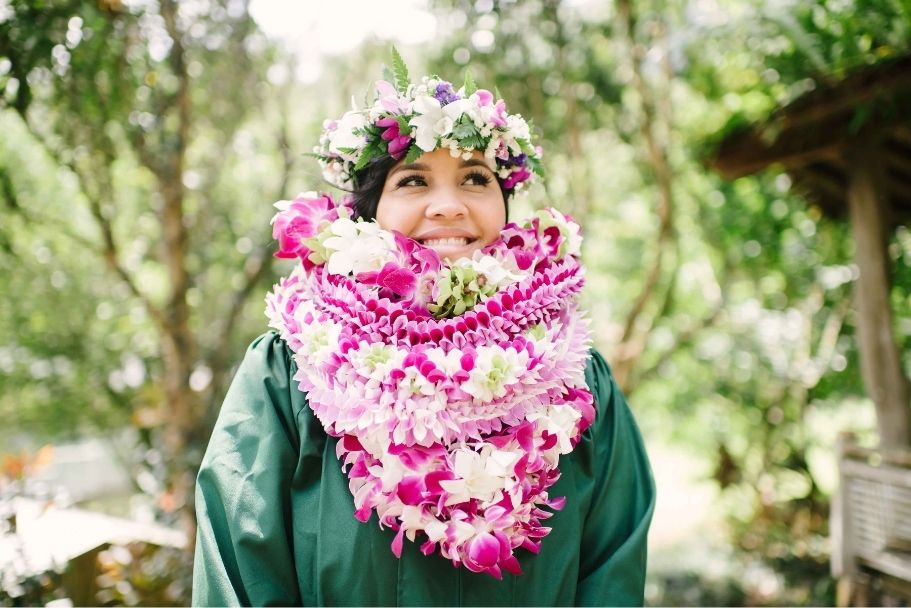 It's becoming increasingly common to spot leis around the necks of graduates at ceremonies here in the mainland. Of course, who wouldn't notice the delicate flowers and stunning arrangement set over bold graduation robes? Let's discuss how leis have become a graduation tradition and the beautiful message they send as gifts to graduates.
The Messages That Leis Send
Leis are often given as a symbol of caring, appreciation, and affection to loved ones by family and friends. Leis are given to honor someone, celebrate them, or show love. Both beautiful and impactful, leis send a powerful, adaptable message from the gift giver to the recipient.
Lei as a Graduation Gift
Understanding the messages that leis send makes it easier to see why they are often given as graduation gifts. Earning a diploma is a momentous occasion for everyone, and it's a victory worth acknowledging.
Leis are a fantastic graduation gift to give, especially as a parent or grandparent of the graduate. They are an eye-catching but deeply meaningful way to say everything without uttering a word. Leis show how far someone has come and tell them how proud you are of all they have accomplished.
The Customizability of Lei
Another reason that leis have become a graduation tradition is how easily customizable they are. The orchids and other flowers chosen for a graduation lei are adaptable in several ways. Larger flowers are ideal for big stages and photographs. The desired fragrance is also up to you.
Leis are especially suited to graduations because flowers are easily matched to the high school, college, or university's colors. Using school colors for a lei demonstrates pride in heritage, academia, and your graduate's accomplishments.
If you're looking for an impactful way to show your soon-to-be graduate just how proud you are of what they've done, Hawai'i Lei Stand is happy to help. We offer a variety of graduation flower lei options, both masculine and feminine, for you to choose from. With an array of scents, colors, and styles available, we can help you find the lei that sends the perfect message to your loved one.