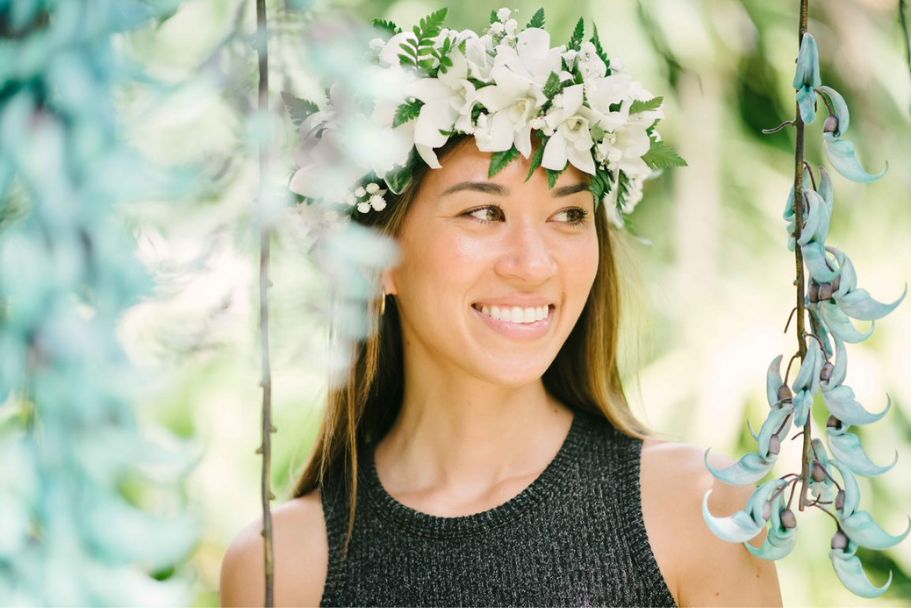 Wearing a lei on your wedding day can make for a beautiful and elegant way to incorporate the culture of Hawai'i into the ceremony and celebrations. The best part? Both the bride and groom can don one. 
Here are some simple considerations to keep in mind if you've got a wedding on the way. 
Color
Color, color, color — it becomes such an integral part of the wedding day. The good news is that while there are a variety of hues to choose from, white is the simplest route to take. Elegant and complementary with just about everything. A popular choice for grooms is a maile or double ti leaf maile-style lei wrapped with white orchids, or even tuberose or pīkake flowers. Brides, meanwhile, often opt for a white haku and white lei, like tuberose or pīkake, both of which offer the added bonus of fragrance.
Symbolism
Flowers have long held attached meanings, and lei are no exception. Carnation, for example, which can be strung with white orchids or tuberose flowers, is a signifier of love and affection. Maile, meanwhile, is an ode to not only love and relationships but also the commitment of two people. 
Other Guests
Aside from the bride and groom getting to wear a lei on the big day, you might consider including other family and friends, as well. It's not uncommon for parents to receive a lei, as well as other importation guests — the officiant, out-of-state family and friends, and grandparents, among them. A lei can also make for a special way to honor the memory of loved ones.