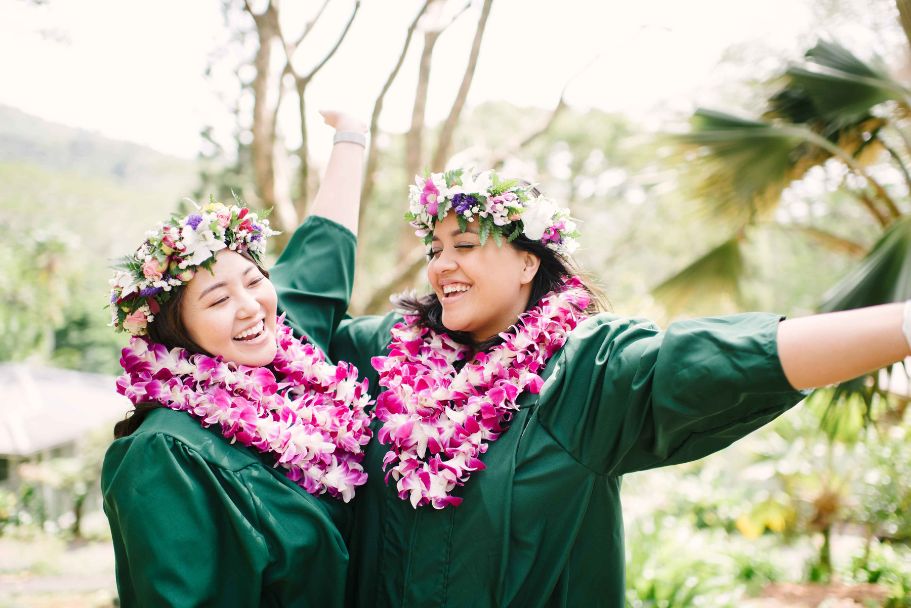 There are all kinds of sentimental graduation traditions that people take part in to celebrate this special occasion. It is a cultural tradition in Hawaii to gift graduates with a lei. But what does receiving a Hawaiian lei on graduation mean? Here are a few of the meanings behind this beautiful tradition.
Affection
Giving a graduate a Hawaiian lei on their graduation day symbolizes love and affection. Graduates proudly wear these beautiful flower garlands their family and friends gave them as they walk across the stage and accept their diplomas. It's an important Hawaiian tradition that allows people to show affection for their loved ones on this special occasion.
Congratulations
Parents, grandparents, siblings, and friends will give a Hawaiian lei to their loved one for graduation to say, "congratulations on all your accomplishments and achievements." These flower garlands are a perfect way to show pride in your loved one's hard work throughout their school years. Then when they walk across that stage on graduation day, they can wear that pride around their neck as they accept their diploma with confidence and joy.
Good Fortune
Another reason people give lei to graduates is to wish them good luck and fortune. It's a good omen to wear a Hawaiian lei as you graduate because it means you will continue to carry success and good fortune with you in your future endeavors. It's a way for family and friends to say, "congratulations on all you have done, now continue to make positive strides in your next endeavors." It's a high honor to receive lei as a graduation gift because of all the beautiful and powerful things they represent.
So now that you know what receiving a Hawaiian lei means on graduation, you can join in on this tradition. Be sure to check out Hawaiian Lei Stand's selection of graduation flower lei to gift your loved ones on their special day.