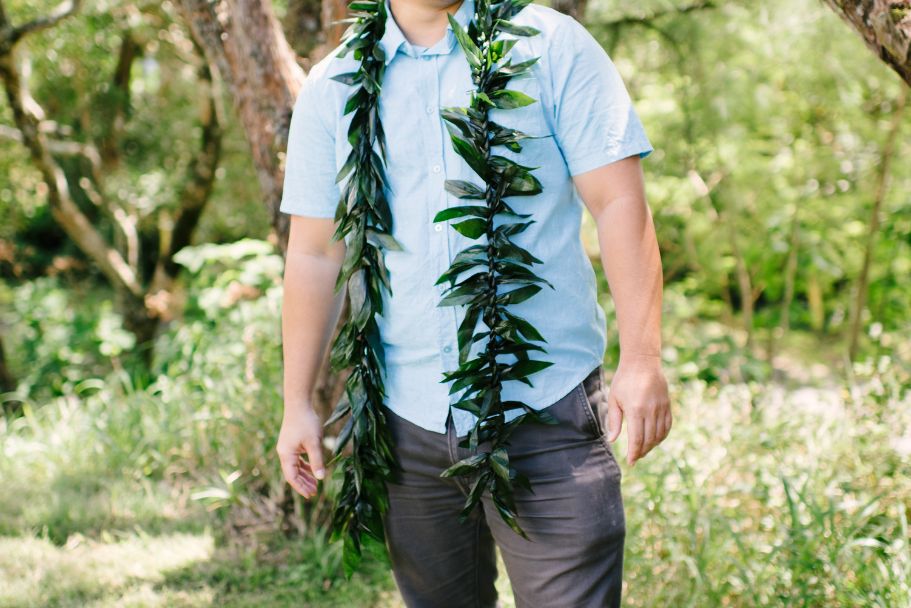 Wearing lei in Hawai'i is an unforgettable experience steeped in tradition. Naturally, there are countless special events that call for lei. (Hint: Just about any occasion will do.) Here are four in particular in which a lei provides just the right finishing touch. 
Weddings
Nuptials no doubt are made all the better — and more festive — when lei are involved. Prized wedding lei include lightly fragrant maile or double ti leaf lei. To make it all the more special, both may be woven with strands of white orchids, or fragrant tuberose or pīkake strands (the latter depending on the season and weather). Pro tip: Make it even more memorable by gifting others in attendance with a lei, as well.  
Graduations
Graduation season in Hawai'i makes itself known in the sheer quantities of lei purchased by family and friends to give to the newly minted alumni in their lives. Are you the graduate? Sit back and let the lei come to you — though if you're new to the tradition, dropping a hint (or a few) to mom, dad, grandma, grandpa and anyone else you can think of. Pro tip: There's no right or wrong lei to give a man for graduation — anything goes to mark this particular milestone.  
Birthdays
Heading out to dinner or for drinks to celebrate someone's birthday? Bring a lei with you so that everyone knows who the birthday boy is. Popular lei for men to be gifted with for their birthdays include kukui nut and ti leaf lei, cigar or cigar mix varieties, and really anything and everything in between. 
Funerals
Though funerals mark the passing of a loved one, it also can be one last time to honor them with lei. Use one to adorn a picture piece, or drape it across an urn or podium. In some instances, family members will also wear a lei, though it is not necessary.  
If you have a different occasion coming up and are wondering if a lei is appropriate, the answer probably is yes. But feel free to reach out for guidance in making a selection — we're always a phone call or chat away!